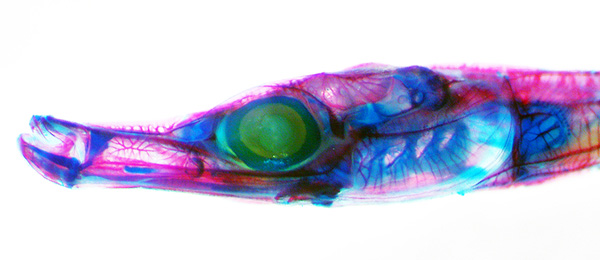 ---
These resources are presented and detailed in:
Small CM, Bassham S, Catchen J, Amores A, Fuiten AM, Brown RS, Jones AG, Cresko WA, 2016. The genome of the Gulf pipefish enables understanding of evolutionary innovations. Genome Biology 17, 258. doi:10.1186/s13059-016-1126-6
All raw sequencing data are available via NCBI BioProject Accession PRJNA355893.
Questions or comments can be directed to the corresponding author, William A. Cresko: wcreskonull@nulluoregon.edu
---
Resources
| Date | Resource and Download Link | Description |
| --- | --- | --- |
| Dec 20th, 2016 | Chromosome Level Assembly | Assembled with ALLPATHS-LG and Chromonomer. Total length: 307,072,164 bp; Format: Gzipped FASTA |
| Dec 20th, 2016 | Chromosome Level Assembly AGP | Tabular file describing how assembly scaffolds are organized into linkage groups; Format: Gzipped AGP |
| Dec 20th, 2016 | Chromosome Level Assembly Annotation | Predicted gene annotations from MAKER2; 20,841 protein-coding genes; Format: Gzipped GFF |
| Dec 20th, 2016 | Scaffold Level Assembly | Assembled with ALLPATHS-LG. Total length: 307,019,064 bp; Format: Gzipped FASTA |
| Dec 20th, 2016 | Scaffold Level Assembly AGP | Tabular file describing how assembly contigs are organized into scaffolds; Format: Gzipped AGP |
| Dec 20th, 2016 | Scaffold Level Assembly Annotation | Predicted gene annotations from MAKER2; 20,841 protein-coding genes; Format: Gzipped GFF |
| Dec 20th, 2016 | Predicted Protein Coding Sequences | Protein-Coding Gene predictions from MAKER2; 20,841 protein-coding genes; Format: Gzipped FASTA |
| Dec 20th, 2016 | NR BLASTP Results | Top BLASTP Hits for Predicted Protein-coding Sequences; Format: Excel Workbook |